Feast of Fantasy: Aurora Christmas Buffets at Yamm
Celebrate Christmas with a magical feast of fantasy at Yamm this holiday season! Expect nothing less than succulent roasts with X'mas turkey and Tomahawk carving, luxuriant seafood with superior sashimi, pan-fried foie gras, and delectable Christmas desserts hand-crafted by our pastry chefs! Bring your family to a jolly holiday brunch or dreamy dinner buffet and spot the Santa and balloon twister on Christmas Eve or Christmas Day!
Bring your family to Yamm to celebrate the merriest time of the year with Santa and balloon twister spreading the cheer! Succulent slow-roasted X'mas Turkey with chestnut stuffing, sous-vide meats, unlimited freshly steamed Boston lobsters, and superior sashimi are just some of the luxuriant highlights of our all-you-can-eat buffets not to mention the whimsical desserts spread all over COCO including eye-catching Yule Log Cake, Gingerbread Men, and traditional Mince Pies!
Christmas Brunch Buffet Highlights (24 & 25 Dec):
Steamed Boston Lobster
Roasted Turkey with Chestnut Stuffing, Gravy and Cranberry Sauce
Seared Foie Gras on Toast with Balsamic
Uni on Tofu with Spring Onion and Light Soya Sauce
Superior Sashimi: Tuna Toro, Japan Botan Ebi, Alfonsino & Leeks
Sea Urchin Tempura
Grilled Bacon, Sliced Conch and Abalone Roll with Sesame Sour Sauce
Grilled Lobster with Hollandaise Cheese Sauce
Braised Fish Maw, Goose Feet and Abalone with Oyster Sauce
Lobster Bisque with Fish Maw and Seafood
Festive Desserts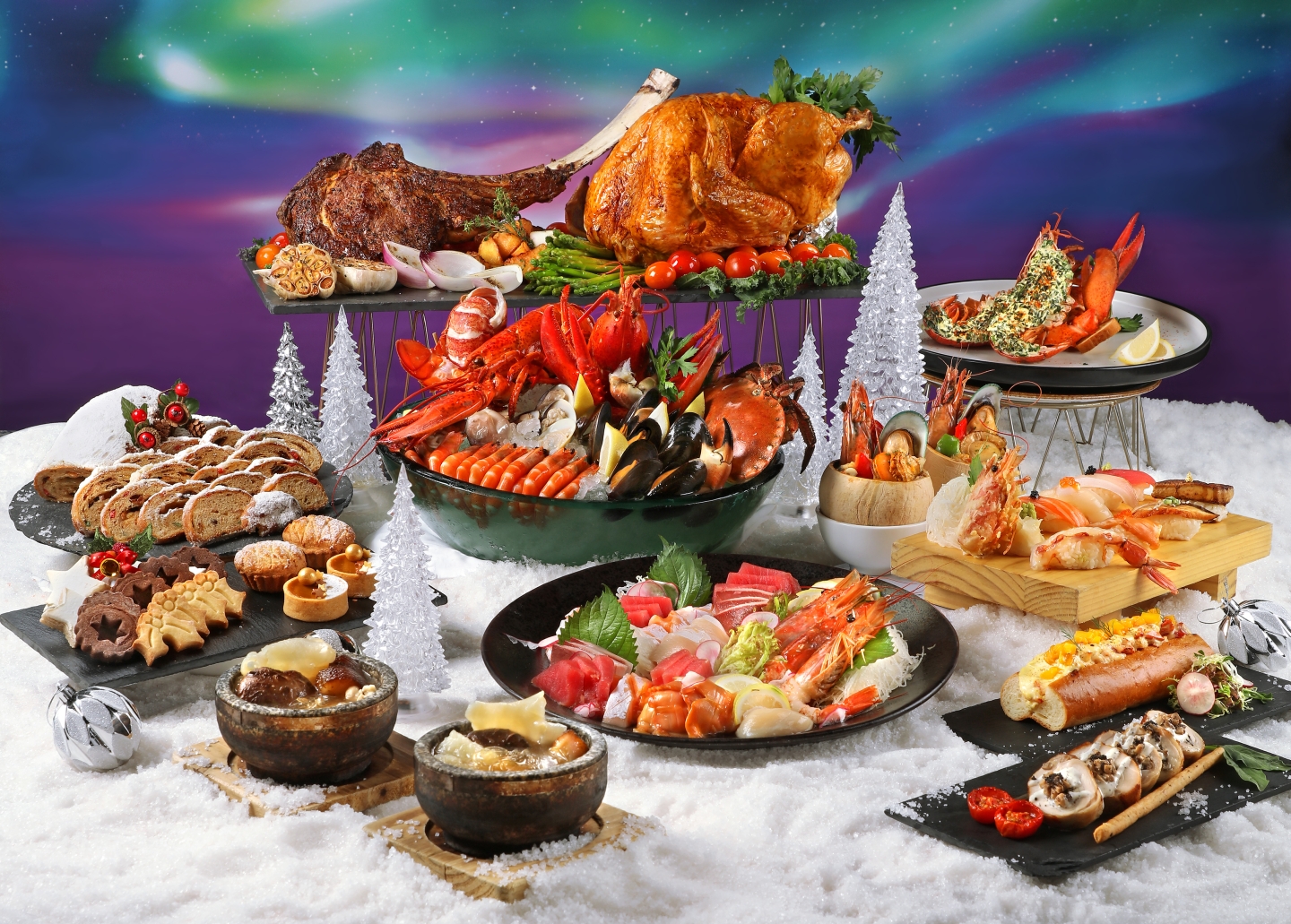 Christmas Dinner Buffet Highlights (24 & 25 Dec) :
Seafood on Ice: Boston Lobster, Brown Crab, Fresh Blue Crab and Prawns
Superior Sashimi: Red Prawn, Hokkaido Scallop, Tuna Toro
Uni on Tofu with Spring Onion and Light Soya Sauce
Roasted Turkey with Chestnut Stuffing, Gravy and Cranberry Sauce
Roasted Tomahawk with Salt and Thyme
Roasted Smoked Pork Loin (Bone-in)
Japanese Red Prawn Tempura
Peony Shrimp with Thai Spicy Dressing
Grilled Abalone with Sake and Soya Sauce
Seared Foie Gras on Toast with Balsamic
Steamed Lobster with Cheese Cream Sauce, Tomato Sauce, Garlic Oil
Braised Fish Maw, Goose Feet and Abalone with Oyster Sauce
Sous Vide: Iberico Pork Butt, Duck Breast, Spring Chicken, Baby Pork Spare Ribs
Steamed Green Grouper with Ginger, Spring Onion Soy Sauce
Lobster Bisque with Vegetarian Shark's Fin and Seafood
Whole Young Coconut with Assorted Seafood (per guest)
Festive Desserts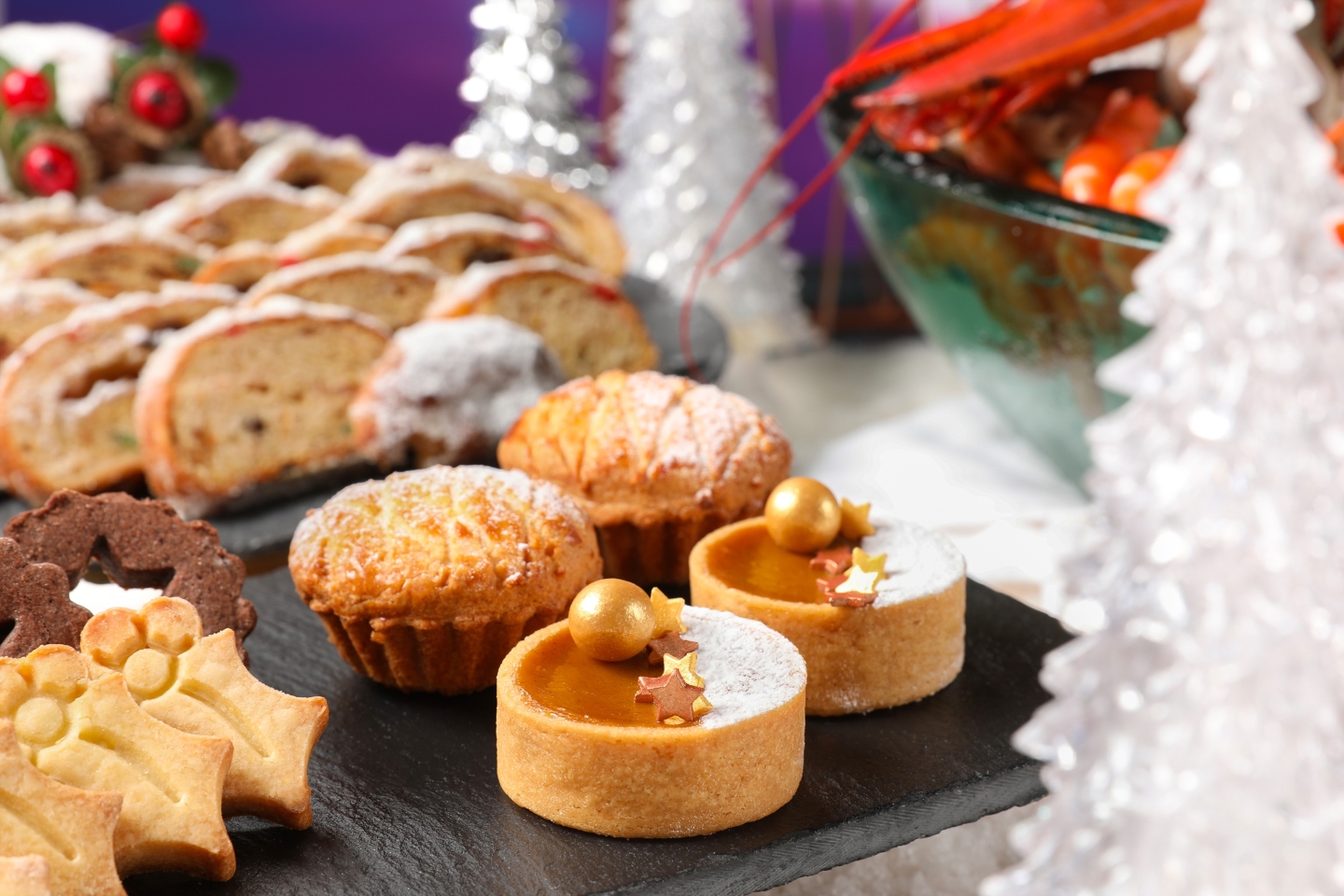 Festive Desserts Highlights:
Mascarpone and Chocolate Buche de Noel
Baked Alaska Flambee Live Station
Aurora Cake
Burnt Basque Cheesecake
Christmas Red Velvet Cupcake
Italian Christmas Panettone with Brandy Sauce
American Pecan Pie
German Stollen Bread
Aussie X'mas Mince Pie
British Christmas Pudding
70% Dark Chocolate Polar Bear Cakepop
Whisky Chocolate Truffle
Uji Kyoto Matcha White Chocolate Fountain with Seasonal Strawberry & Giant Marshmallows
Pandan Waffle & Mövenpick Ice Cream Live Station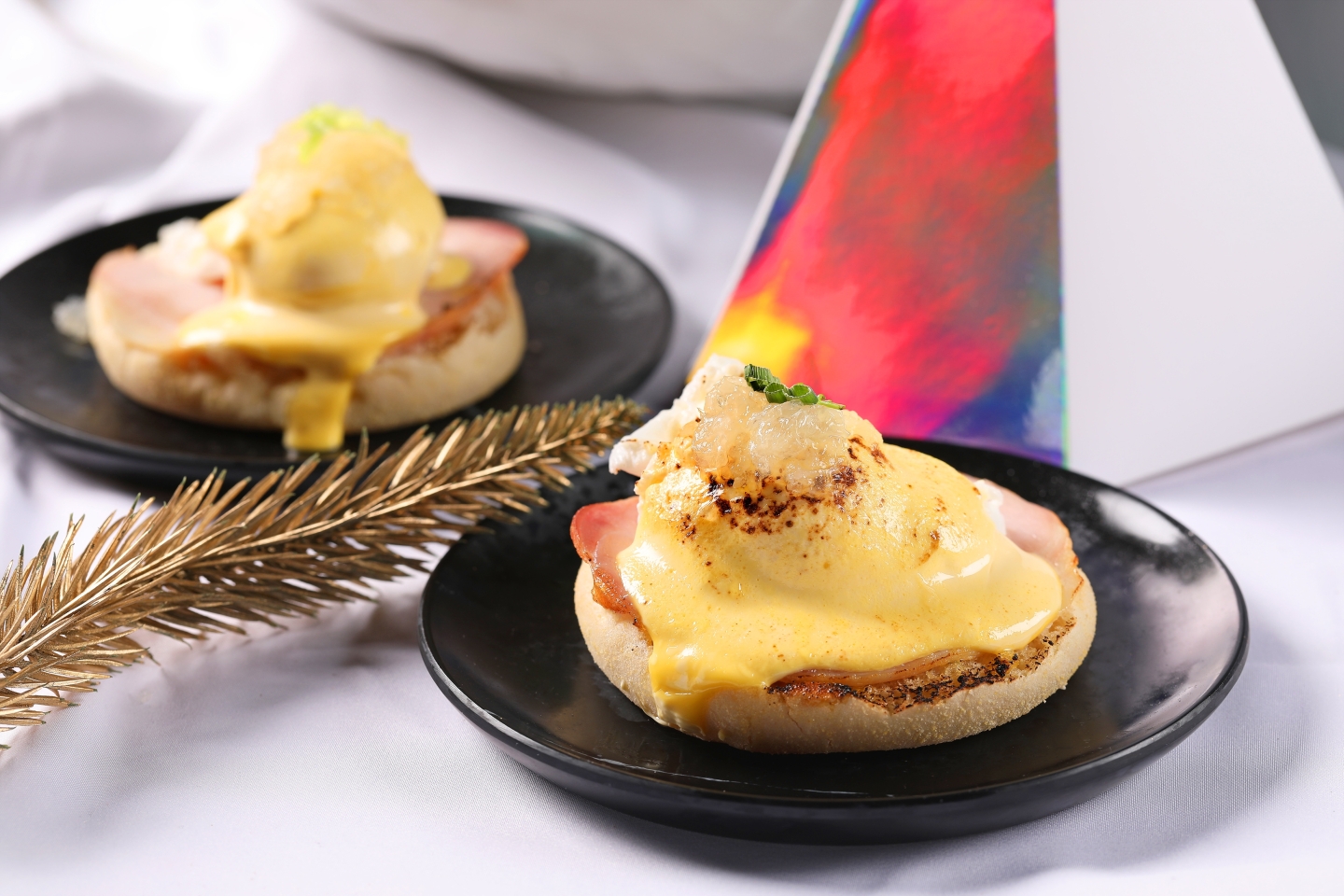 Boxing Day Brunch Buffet Highlights (26 Dec):
Chilled Boston Lobster
Roasted Australian Sirloin with Salt & Thyme
Roasted Turkey with Chestnut Stuffing, Gravy and Cranberry Sauce
Seared Foie Gras on Toast with Balsamic
Sashimi: Red Prawn, Hokkaido Scallop
Sea Urchin Tempura
Roasted Peking Duck
Grilled Lobster with Hollandaise Cheese Sauce
Lobster Bisque with Fish Maw and Seafood
Festive Desserts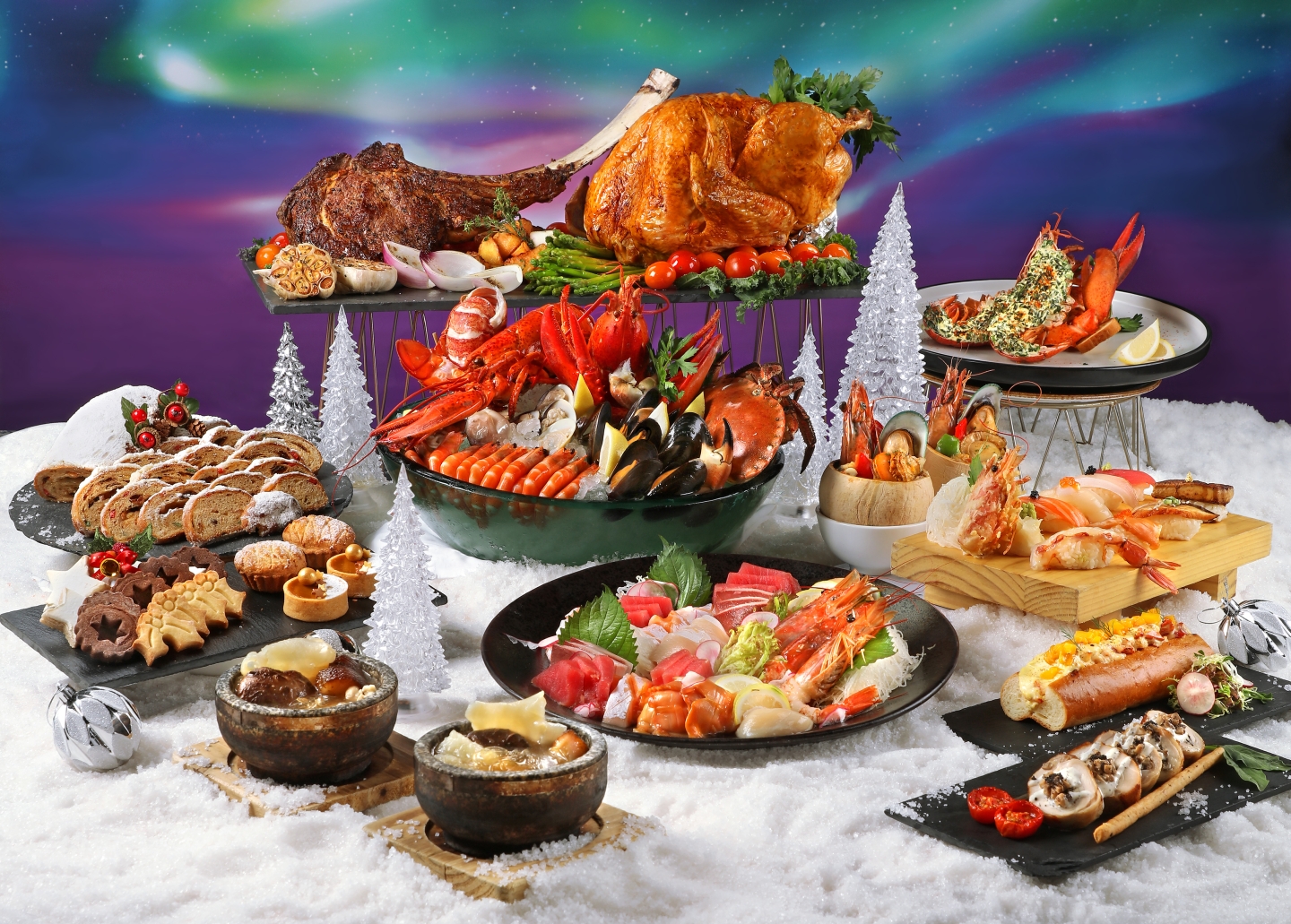 24 Dec – Christmas Eve Brunch Buffet [Santa & Balloon Twister]
11:30am – 1:30pm | HK$688 (Adult) / HK$328 (Child)
2:00pm – 4:00pm | HK$588 (Adult) / HK$328 (Child)
inclusive of free-flowing sparkling wine / juice and cocktails
24 Dec – Christmas Eve Dinner Buffet [Santa & Balloon Twister]
5:30pm – 8pm | HK$1,388 (Adult) / HK$598 (Child)
8:30pm – 11pm | HK$1,288 (Adult) / HK$598 (Child)
inclusive of free-flowing wine / juice
* * * * * * * * * * * * * * * * * * * *
25 Dec – Christmas Day Brunch Buffet [Santa & Balloon Twister]
11:30am – 1:30pm | HK$688 (Adult) / HK$328 (Child)
2:00pm – 4:00pm | HK$588 (Adult) / HK$328 (Child)
inclusive of free-flowing sparkling wine / juice and cocktails
25 Dec – Christmas Day Dinner Buffet [Santa & Balloon Twister]
5:30pm – 8pm | HK$1,188 (Adult) / HK$598 (Child)
8:30pm – 11pm | HK$1,128 (Adult) / HK$598 (Child)
inclusive of free-flowing wine / juice
* * * * * * * * * * * * * * * * * * * *
26 Dec – Boxing Day Brunch Buffet
11:30am – 1:30pm | HK$488 (Adult) / HK$288 (Child)
2:00pm – 4:00pm | HK$438 (Adult) / HK$288 (Child)
inclusive of free-flowing sparkling wine / juice
Prices are subject to a 10% service charge