Embrace this summer with the irresistible freshness of seasonal ingredients servedduring the summer feast in Harbour Restaurant and be impressed by the wonderful culinary journey!
Beat this balmy summer with the "Lobster and Wagyu" Summer Feast Dinner Buffet presented by Harbour Restaurant. The luscious and succulent Wagyu Beef, the delicate sweetness of Lobster dishes as well as the all-time-favorite options fire up guests' appetites. More than that, briny fresh seafood like Canadian Snow Crab Cluster, Freshly Shucked Oysters, Crayfish with Herbs, Blue Mussels, etc., which will surely satisfy every craving for seafood delights.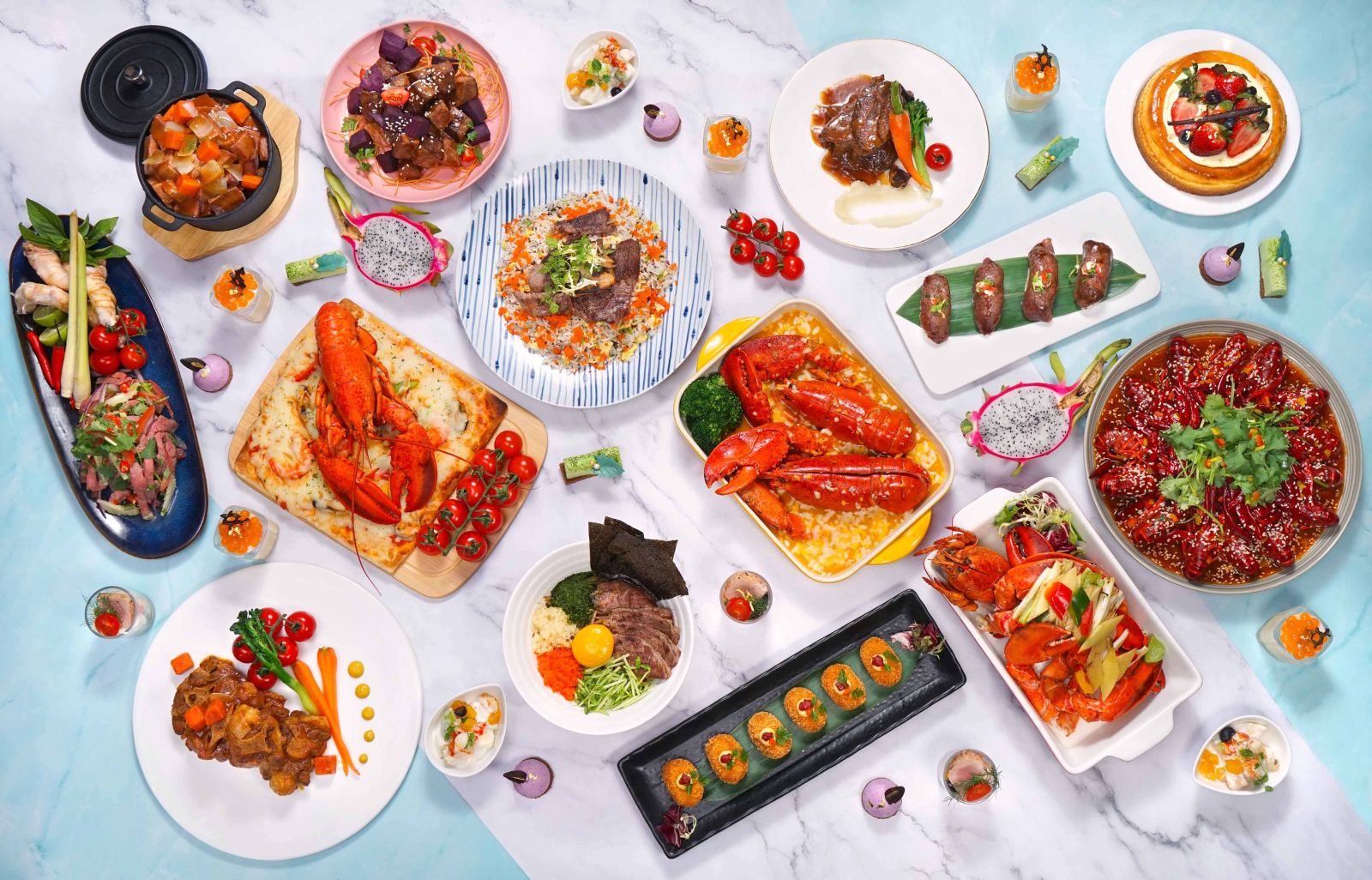 Signature Dishes:
Braised Wagyu Beef Cheek with Black Truffle, Aburi Wagyu Sushi, Wagyu Beef Sukiyaki with Noodle in Japanese Style, Wagyu Beef Bolar Blade with Purple Sweet Potato and Teriyaki Sauce, Wagyu Beef Croquettes, Fried Rice with Wagyu Beef and Foie-gras, Braised Wagyu Oxtail in Red Wine Sauce, Braised Wagyu Beef Tongue in Hungarian Style, Thai Beef Salad, Lobster Pizza, Pan-fried Lobster Claw with Ginger and Green Onions, Fried Lobster in Broth with Cheese and Garlic, Braised Baby Lobster with Herb in Chilli Sauce
Fresh Seafood Counter: Canadian Snow Crab Cluster, Crayfish with Herb, Freshly Shucked Oysters, Clams,Blue Mussels, and Babylon Shells
Sashimi Counter: Tuna, Salmon, Octopus, *Swordfish, Amaebi, Hokkaido Scallop, *Hokkigai, *Herring
*Available on Friday - Sunday, Public Holiday and eve only
Other Hot Dishes:
#Pan-seared Lamb Rack, #Braised Pork Belly, #Satay Skewers, *Pan-seared Duck Foie-gras with Balsamic Reduction on Toast, #Pan-seared Ox Tongue, #Roasted U.S. Short Rib of Beef, Roasted Leg of Lamb, Roasted German Sausage Platter, Roasted Peking Duck with Condiments, Sichuan Dan Dan Noodle, Pan-seared New Zealand Hoki Loin Fillet in Lemon Butter Sauce, Seafood Gnocchi with Wine Parmesan Sauce, Deep-fried Oyster, Sea Snails in Spicy Wine, Baked Stuffed Crab Shell with Crabmeat
and Black Truffle, Baked Cauliflower and Brccoli with Cheese Sauce, Stir-fried Clams in Chili Sauce, Deep-fried Squid with Pepper Salt, Golden Fried Rice with Abalone, Boiled Grouper Fillets with Pickle Cabbage, Stir-fried Squid and Shrimp with Seasonal Vegetables and XO Sauce, Fresh Crab Congee. etc.
*Available at the Live Station on Fri-Sun, PH & Eve at 7:30pm
#Available at the Live Station at 6:30pm
Desserts:
MÕVENPICK Ice cream from Switzerland (8 flavours), Pomegranate Earl Grey Mousse Cake, Black Pepper Chocolate Cake, Mango Passion Fruit Cake, Strawberry Cheese Cake, Rose Honey Mousse Cake, Poached Pears in Red Wine, Deep-fried Durian Ball, Mango and Coconut Yoghurt Cup, Lemon Burnt Basque Cake with Mixed Berry, Green Apple Matcha Mousse Cake, Chinese Sugar Egg Puffs, Tofu Pudding, Waffle, Almond Tea with Egg White, Mini Portuguese Egg Tarts, Chocolate Fountain with Condiments, etc. Free-flowed selected bottled soft drinks are available at Drinks Bar.
Date: From 1 June 2023 till 31 Aug 2023, 6:30pm - 9:30pm (subject to availability)
Price
Adult buffet: HK$559 (Mon - Thu) / HK$599 (Fri - Sun, Eve of PH & PH)
Child/Senior buffet: HK$519 (Mon - Sun, Eve of PH & PH)
- Senior: Aged 60 and above
- Child: Aged 4-11
*Prices and offers are subject to a 10% service charge based on the original prices unless otherwise specified