Afternoon tea in Hong Kong is an institution revered on par with British culinary traditions of the 5 o'clock refreshment for the peckish ones. But why limit yourself to a classic 3-tier platter of sweets and mini savouries when you can enjoy unlimited servings of your favourite finger foods and desserts? Weekend afternoon tea buffet at Yamm is a fun family affair for those with ravenous appetites!
Yamm's afternoon tea buffet is an abundant mix of Western and Eastern Buffet with traditional sandwiches, scones, cream, homemade jam and a medley of assorted cakes.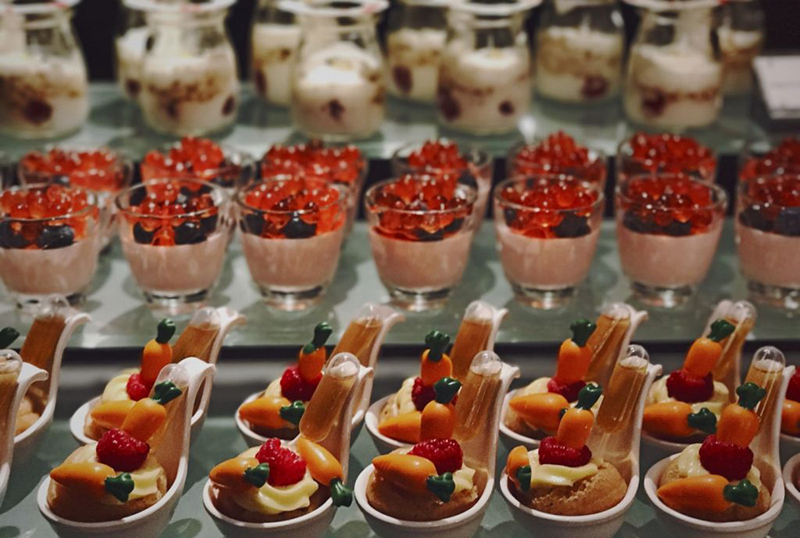 What's more, the buffet also features an open kitchen theatre with engaging cooking stations serving delicious, freshly made regional Asian specials including sushi, flavorful Thai and Indian speciality dishes, fried Chinese noodles and dim sum baskets with recognisable picks.
A highly popular afternoon tea buffet in Tsim Sha Tsui, Yamm's tea buffet is like no other in town as it follows a rotating schedule of four weekly lunch buffet themes ranging from "Oishi" Japanese to Singaporean and Taiwanese street food staples, sumptuous Seafood theme, and even Viet & Thai Hawker's Delights.
The Sweet Side:
Each spread offers all-you-can-eat bite-size desserts from Mini Cupcakes and crispy cookies, to Caramelised Croissants, Pain au Chocolat, and iconic buttery Matcha Scones fresh from the oven served with fresh clotted cream and homemade jams.
Plus there is a whole range of favourite Hong Kong local sweets such as Pineapple Buns, Bean Curd Pudding, Serradura and Macau Egg Tarts, as well as a colorful Popcorn machine your kids will love.
On top of that, every Public Holiday is another reason to enjoy an afternoon bite with special festive sweets celebrating such occasions as Chinese New Year, Easter Monday, Tuen Ng Festival, Boxing Day during Christmas and more!
Explore our live cooking stations where the culinary magic happens, savour local & regional delicacies and be enchanted by the food aroma that triggers your appetite instantly.
Tea Buffet Highlights:
OISHII JAPANESE TEA BUFFET:
Japanese Braised Pork Knuckle
Stir-fried Sea snails in Spicy Sauce
Shirayaki Octopus
Robatayaki(Beef Tongue Skewers, Chicken Skin skewers, Chicken Wings, Shishito Pepper)
Cantonese Wonton and Dumpling Noodle Soup
Bird's Nest with Papaya and Snow Fungus Sweet Soup
VIET & THAI TEA BUFFET:
Thai BBQ Pork
Chicken Satay
Khao Man Gai (Thai Chicken Rice)
Vietnamese Pho – Beef Noodles
Indian Naan Bread and Masala chai
Bird's Nest with Papaya and Snow Fungus Sweet Soup
SEAFOOD TEA BUFFET:
Mediterranean style Baked Whole Sea Bass
Crispy Deep-fried Capelin
Mussels in Spicy Wine Sauce
Baked Lobster Claws in Cheese and Butter Sauce
Seafood Laksa
Bird's Nest with Papaya and Snow Fungus Sweet Soup
SINGAPOREAN & TAIWANESE STAPLES:
Roasted Baby Spare Rib
Camphor Duck
Taiwanese Oyster Omelet
Curry Chicken Skewers
Taiwanese Beef Noodle
Bird's Nest with Papaya and Snow Fungus sweet Soup
Available on every Saturday & Sunday and Public Holidays*, from 3:30pm – 5:45pm
(*except 16 Jul – 29 Aug, 2021)
HK$308 (Adult) / HK$188 (Child)
Prices are subject to 10% service charge on original price.