Australia is Feastiful! Bring the family and friends to an abundant dinner buffet filled with popular must-tries from "Down Under", including the grilled kangaroo, Aussie grass-fed beef and lamb chops, served along with Yamm's crab and oyster specials! Enhance the dining fun with a choice of wines by the glass spanning Australia's most popular wine regions from Yarra Valley to Tasmania!
If you ever dreamt of all-you-can-eat Aussie Pies, now is your chance to make your dreams come true! Don't wait till the borders re-open and head to Yamm to enjoy Australia's specials from delicate seafood to premium meats including the grilled kangaroo!
Aussie Buffet Specials (17 Sep – 14 Oct):
Freshly Steamed Lobsters on Ice
Four Types of Freshly Shucked Oysters, including Australian Oysters
Creamy Leak & Potato Soup, Crispy Bacon
Aussie Pies (Beef, Gravy, Tomato, Mashed Potato & Peas)
Grilled Kangaroo with Roasted Capsicum and Red Wine
Grilled Australian Lamb Chops with Honey and Soya Sauce
Chicken Parmigiana
Grilled Barramundi with Herbs, Lime and Garlic
Carving of Slow-cooked Australian Grass-fed Beef Striploin with Black Pepper and Garlic
Desserts: Lamingtons, Macadamia Tart, Anzac Biscuits, Tropical Fruit Pavlova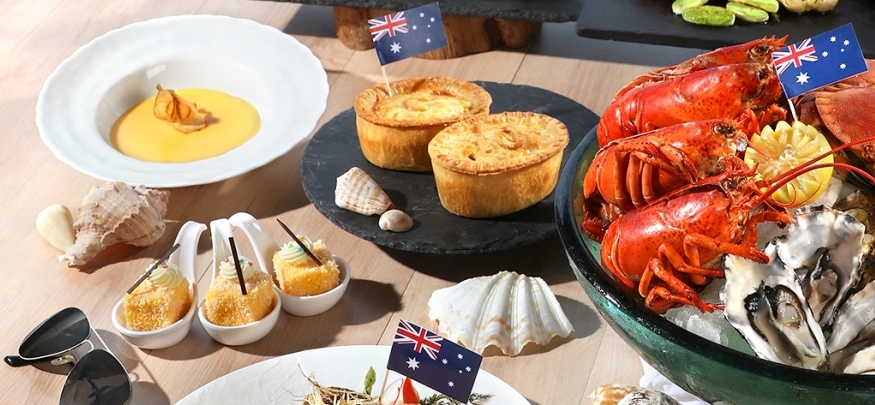 Aussie Buffet Specials (15 Oct – 14 Nov):
Freshly Steamed Lobsters on Ice
Four Types of Freshly Shucked Oysters,, including Australian Oysters
Australian Pea & Ham Soup with Herb Croutons
Aussie Pies (Chicken, Veg, Gravy, Mashed Potato & Peas)
Yakitori: Salt & Pepper Australian Squid & Prawns with Sweet Chili Sauce
Live Station: Kinkawooka Mussels, Curry, Coconut Milk
Whole Roasted Tasmanian Salmon with Herbal Hollandaise
Slow-cooked Australian Grass Fed Beef Rib Eye with Black Pepper & Garlic
Desserts: Caramilk Lamington Cake, Macadamia Tart, Red Berry Eaton Mess
In addition to fresh seafood on ice including freshly shucked oysters, lobsters, crab legs, shrimp and mussels, every dinner buffet at Yamm features international cheese & cold cuts with condiments as well as a spread of divine desserts complete with a chocolate fountain!
Available from 17 Sep until 14 Nov 2021, 6:30pm – 10pm*
(except for theme nights: Toyosu Market and Fresh Catch)
Mon – Thu: HK$688 (Adult) HK$398 (Child; 3-11 years)
Fri – Sun & Public Holidays & Eve: HK$728 (Adult) HK$428 (Child)
*2 rounds of dinner buffet served on Sat, Sun & Public Holidays (and 15 Oct),
from 25 Sep to 30 Nov, 2021, inclusive of free-flowing standard drinks:
5:30pm – 7:30pm (1st seating)
8pm – 10pm (2nd seating)
All prices are subject to a 10% service charge on the original price.