As the year comes to an end, celebrate with Christmas and New Year menus with your loved one by having quality time over a delicious semi-brunch or dinner buffet in this romantic oasis.
Under Hong Kong's largest vertical garden, GREEN offers a convivial atmosphere to unwind and savour a series of festive delicacies and seafood dishes. A lavish Semi-Buffet Brunch and Dinner are prepared for guest to celebrate the wonderful moment. The Semi-Buffet Menus features Char-grilled Beef Fillet and Diced Foie Gras in Port Wine Sauce, Lobster Bisque with Armagnac and Chervil and Roasted Brittany Baby Turkey and Rosemary Ham. Not to mention with the unlimited seafood appetisers and the beautifully crafted dessert corner prepared by Executive Pastry Chef Danny Ho to double up your happiness in this fabulous festive seasons.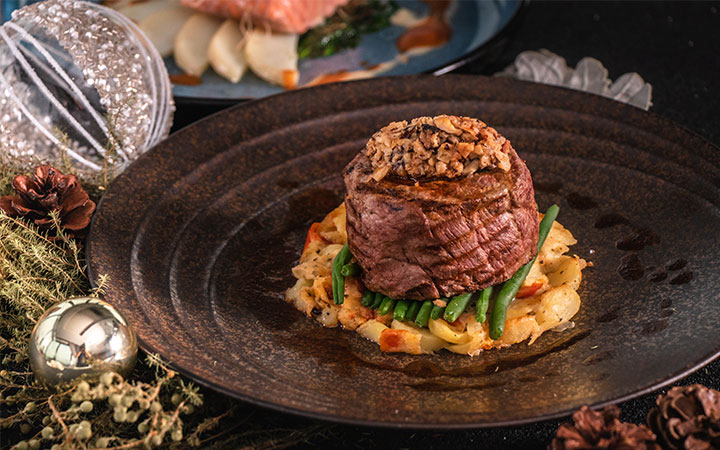 Make Green As Your Winter Wonderland Menu
Set Lunch (12nn-2pm):
1 - 23 , 28-30 Dec: HK$228 (2-course)|HK$268 (3-course)
Semi-Buffet Brunch(11:30-2pm):
24 / 27 / 31 Dec & 2-3/1: HK$458 (Adult)|HK$298 (Child)
25-26 Dec & 1/1: HK$518 (Adult)|HK$338 (Child)
Afternoon-tea Set:
Price: HK$368 per person | HK$658 for 2 persons
1-23, 27-30 Dec & 1/1: 1st round: 3pm-5pm | 2nd round: 5pm-7pm
24-25, 31 Dec: 3pm-5pm
Semi-Buffet Dinner:
25-26 Dec: HK$708 (Adult)|HK$418 (Child)
31 Dec: HK$768 (Adult)|HK$438 (Child)
10% service charge applies
Deposit requirement:
A non-refundable deposit is required and this amount will be calculated based on the total number of diners.
The following deposit will be forfeited if the actual attendance vary by more than one person to the number of guests noted in the initial reservation:
- HK$100 per person or Set Dinner (4pax or above) and dinner from Friday - Sunday & public holidays
- HK$100 per person for Semi Buffet Lunch or Brunch
- HK$100 per person for Afternoon Tea Set
- HK$100 per person for Semi Buffet Dinner
Kindly note that when you successfully make your reservation on OKiBook , Hotel ICON will send you the deposit detail by Email & SMS, please kindly arrange the deposit payment within 3 days . If the deposit has not been paid by the above-mentioned date, the online booking system will cancel your reservation automatically.
Reservation amendment:
In order to change a reservation date or number of persons, please notify at least 7 days in advance of your reservation date to avoid any additional charges, In case less than 7 days , the number of pax should be guarantee 90%, When the actual number of guest served is smaller than 90% of the initial reservation the corresponding deposit will be forfeited. Any request to increase the number of guests will be based on the availability of restaurant.
No-Refund Policy:
Deposit paid is non-refundable. In case of cancellation, the deposit can be retained for use another day within 30 days, subject to table availability. However, 100% deposit will be forfeited if cancellation is made before 7 days of your event.
Confirmation:
After paying the deposit, a confirmation letter will be sent to you within 24 hours via by email & SMS. The deposit will be offset against the bill of your upcoming event.